Meet the South African
who revolutionised the JSE:
"How to make money in small stocks in next to no time at all"


"My idea was always to show South Africans that investing in stocks is not nearly as risky or complex as they may think." he says.

"My goal is to help the every day South African take the power back into his hands and manage his own wealth

Through his 5 Minute Investor course, Francois aims to teach 10,000 ordinary South Africans how to make money for themselves buying and selling the most profitable shares on the JSE today.

The course is supported by FSPInvest, an independent financial research and publishing house that currently serves more than 100,000 readers in South Africa. The 5 Minute Investor is a completely free course.

Register NOW to join "The 5 Minute Investor" course free of charge.

Got some questions before you join?

We got Francois Joubert to answer some of your most common questions: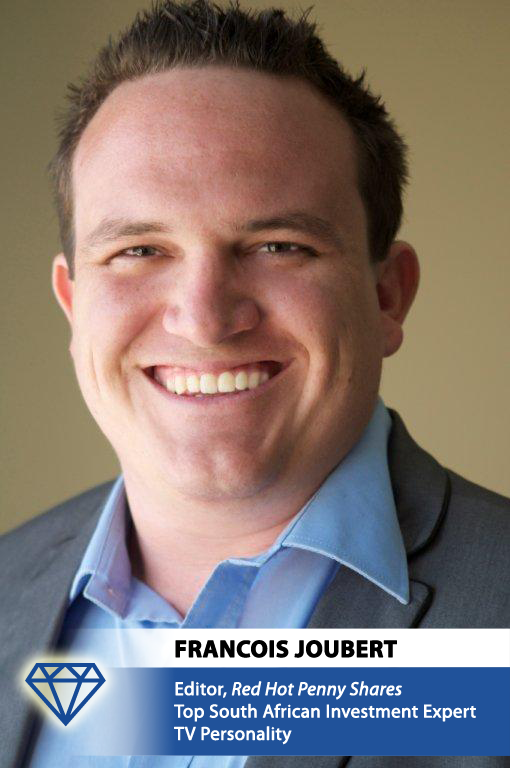 Q: Is there anything illegal in your method?

A: This is a way to generate a good return by buying shares on the stockmarket, everything is 100% legal. The key is to invest in shares with REAL value.

Q: Really you can start with only R10,000 and invest in companies on the JSE?

A: For less money too. But the question is to evaluate the risk and that's the first thing I teach in the course.

Q: If it is so simple why are so few South Africans investing on the JSE now?

A: The truth is, it comes down to two reasons. One: Education - due to South Africa's past social reality, most South Africans just simply have never been taught how easy it is to become an investor. That's why I started this course - to level the playing field. Two: FEAR - many South Africans are AFRAID of investing - they are scared they are not smart enough, educated enough, rich enough or skilled enough to invest. They are afraid they will lose money. I address and debunk these fears in The 5 Minute Investor course.


Q: How did you come up with the idea for the course?

A: Over my 10 years of experience in the investing industry, specifically during my time working with new investors through my collaboration with FSPInvest.co.za I saw the reasons why South African's were not investing and I decided to do something about it.

I prepared The 5 Minute Investor programme with the help of the team of expert investors and financial educators at FSPInvest.co.za. The aim is to break down each of the obstacles and prove that investing in stocks is much easier than you think. I put a lot of effort into making sure that you only need to spend five minutes on the course each day. It's a course ANYONE can do - regardless of your education or wealth - and includes concrete examples of how to make money through investments in 5 minutes. We're breaking down centuries old financial barriers here!

Please enter your email address below
Disclaimer
Copyright © 2018, Fleet Street Publications (Pty) Ltd.
The information contained herein is obtained from sources believed to be reliable, but its accuracy cannot be guaranteed. No action or inaction should be taken based solely on the contents of this publication. We do research all our recommendations and articles thoroughly, but we disclaim all liability for any inaccuracies or omissions found in this publication. No part of this publication may be reproduced or transmitted in any form or by means of electronic or mechanical, including recording , photocopying, or via a computerised or electric storage or retrieval system without permission granted in writing from the publishers.