Meet the South African
who revolutionised the JSE:
"How to turn R10,000 into R1,346,198 in 5 years"

He says over the course of one week, he can show how, R10,000 grew to R1,346,198. He states you don't have to have a degree to make money from the South African stock market...

Who is this man?

And how dare he make such an audacious claim?

When one thinks of revolutionaries, the image that comes to mind is that of an armed man with a red beret and an AK47 in hand. But times change and in the 21st century the REAL revolutions are financial ones.

This is something Francois Joubert, the South African Investment Strategist who revolutionised the JSE knows all too well. In his own words:

"My idea was always to show South Africans that investing in stocks is not nearly as risky or complex as they may think." he says.

"My goal is to completely revolutionise the traditional monopolies controlling investing on the JSE and pass the power back into the hands of ordinary South Africans. Right where it belongs!"

Through his 5 Minute Investor course, Francois aims to teach 10,000 ordinary South Africans how to make money for THEMSELVES buying and selling the most profitable shares on the JSE today.

The course is supported by FSPInvest, an independent financial research and publishing house that currently serves more than 100,000 readers in South Africa. The 5 Minute Investor is a completely free course that lasts one week.

Register NOW to join "The 5 Minute Investor" course free of charge.

Got some questions before you join?

We got Francois Joubert to answer some of your most common questions: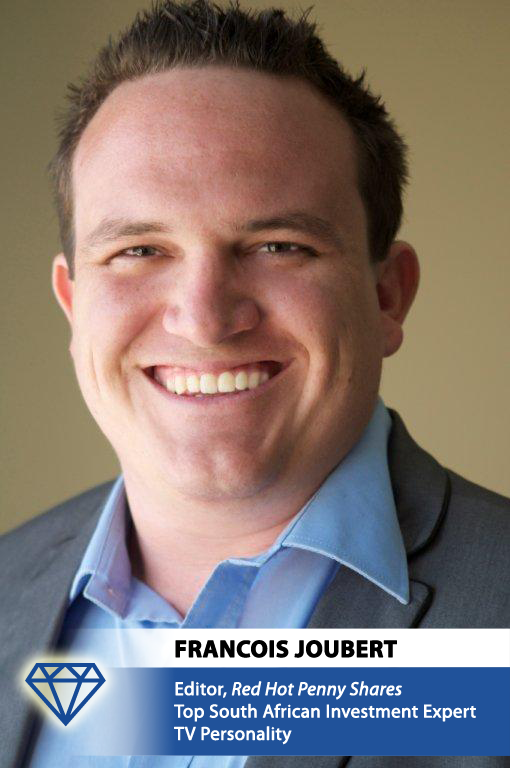 Q: Is there anything illegal in your method?

A: This is a way to make money by buying shares on the stock, everything is 100% legal. The trick is to invest in shares with REAL value.

Q: Really you can start with only R10,000 and invest in companies on the JSE?

A: For less money too. But the question is to evaluate the risk and that's the first thing I teach in the course. To earn R1,34 million from R10,00 is not difficult. You just need to know HOW.

Q: If it is so simple why are so few South Africans investing on the JSE now?

A: The truth is, it comes down to two reasons. One: Education - due to South Africa's past social reality, most South Africans just simply have never been taught how easy it is to become an investor. That's why I started this course - to level the playing field. Two: FEAR - many South Africans are AFRAID of investing - they are scared they are not smart enough, educated enough, rich enough or skilled enough to invest. They are afraid they will lose money. I address and debunk these fears in The 5 Minute Investor course.


Q: How did you come up with the idea for the course?

A: Over my 10 years of experience in the investing industry, specifically during my time working with new investors through my collaboration with FSPInvest.co.za I saw the reasons why South African's were not investing and I decided to do something about it.

I prepared The 5 Minute Investor course with the help of the team of expert investors and financial educators at FSPInvest.co.za. The aim is to break down each of the obstacles and prove that investing in stocks is much easier than you think. I put a lot of effort into making sure that you only need to spend five minutes on the course each day. It's a course ANYONE can do - regardless of your education or wealth - and includes concrete examples of how to make money through investments in 5 minutes. We're breaking down centuries old financial barriers here!

Q: How long is the course and why is it free?

A: It lasts one week in total. It is 100% online and you do not have any programme installed on your computer or anything similar. In fact, you can access the classes when and where you want because there is no fixed schedule. And it's free because I've made it my mission to democratise the finance industry - and investing on the JSE in particular. It would be strange to tell you that you don't need much money to start investing and then charge a fee to tell you how to do it!

Q: Is the course available at the moment?

Yes, but only until the first 5,000 slots have been filled. Admissions will close after we have reached our target of 5,000 South Africans. The only way to secure your place is to complete this registration form. I recommend you sign up fast because as far as I know, it is the only free investing course of its kind in South Africa.

So, join today, and tell your friends and family to join as well. Come learn how to earn big money from small money and about how the JSE really works.

My goal is to reach 5,000 members. Five thousand South Africans who are going to prove to everyone that you CAN invest, you CAN make money, and you do NOT need big money to do so.

Please enter your email address below